The Southwestern University 2021-22 (SWU) is a private university in Cebu City, Philippines founded on 1946 by two pharmacists. It started as Southwestern Colleges in the summer of 1946 and became a university on December 11, 1959. It has three campuses in Metro Cebu.
_______________
Campuses:-
Southwestern University is in the south of the City of Cebu, Philippines 2018. The university has three campuses. The main campus is located on Urgello St.; the Aznar Coliseum Complex is on Aznar Road; and the Basak Campus on Sabellano St., Basak, and Cebu City. Main Campus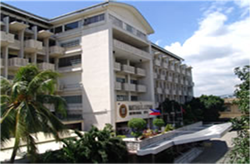 The main campus is the home of the colleges of Arts and Sciences, School ofBusiness, Computer

Studies, Criminology, Dentistry, Engineering, Graduate School, Law, Maritime, Medical Technology, Medicine, Optometry, Pharmacy, Physical Therapy, and Teachers' College. The Sacred Heart Hospital, Pathology and Biology Museums, Library, Interfaith Chapel, Botanical Garden, and the Administrative Offices are found in the main campus. Aznar Coliseum Complex Located about 50 meters from the main campus, this complex is made up of Aznar Memorial Coliseum, a ballpark, and the Anunciacion B. Aznar building which houses the Elementary and High School Departments, the Maritime Regiment, the 540th NROTC Unit and the College of Nursing. South Campus The third campus is the South Campus (formerly the Basak Campus), which houses the College of Veterinary Medicine and the Veterinary Teaching Hospital. The Elementary and High School Training departments are here.
_______________
History:-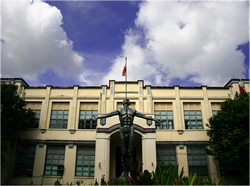 In summer of 1946, when the Philippines was in the rehabilitation process after World War II, Southwestern University was founded with the name Southwestern Colleges. The founders were husband-and-wife pharmacists Matias Hipolito Chavez Aznar II and Anunciacion Barcenilla Aznar. Southwestern Colleges started with 18 faculty members and 509 students in three two-storey buildings on an approximately two-hectare lot. It had the following courses: elementary, high school (day and night classes), first two years of Arts and Sciences (Associate programs), Education and Commerce, and first-year Law. In the school year 1946–47, the Colleges of Medicine, Dentistry, Pharmacy and the Graduate School were opened. The College of Nursing was added in school year 1948–1949.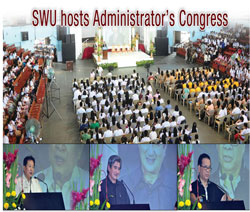 The school became a university on December 11, 1959 with its formal inauguration and the investiture of the co-founder and second president Annunciation Barcenilla Aznar on February 13, 1960. The school year 1959–1960 also started with two new courses: Engineering and Optometry. The College of Medical Technology was opened in 1962. Agriculture and Veterinary Medicine came after a few years. The latest colleges added were Computer

Studies, Physical Therapy, Maritime, and Criminology. In 2009, the university had 20 colleges and departments. Southwestern University has continuously expanded its curricular offerings and its physical plant. The university now occupies more than 18 hectares. The Aznar Coliseum with a seating capacity of approximately 7,000–8,000 is the venue for sports

and cultural activities.
_______________
Academic programs :-
Professional programs
College of Medicine
Graduate School Doctorate Degree Programs
Graduate School Masters Degree Programs
_______________
Vision:-
The MHAM College of Medicine is at par with the highest scientific and ethical standards in medical education.
_______________
Mission:-
In the pursuit of our vision, the Matias H. Aznar Memorial College of Medicine, Inc. exerts its efforts to:
maintain a roster of acknowledged medical experts in all fields of specialization;
equipthe college with state-of-the-art facilities;
focus on core competencies and skills in medical practice;
implement a research-oriented instruction and research-based courses of study;
use an information technology-based approach to teaching;
practice community-oriented and universally-accepted health care;
provide avenues for postgraduate training in a particular field of medical discipline.
_______________
Goals:-
The MHAM College of Medicine, Inc. offers the medical program leading to a degree of Doctor of Medicine whose graduates are:
trained in the highest scientific and ethical standards of medical education;
adjusted to current (medical) health needs of people around the world;
aware of the latest treatment modalities;
in pursuit of lifelong disposition to professional advancement and learning.
Tuition Fees Breakdown of Fees: BSMD Fees International Student Development Fee US$4000.00 16 months BS Program: US$4500.00 First Year MD: US$3545.00 Second Year: US$3545.00 Third Year: US$3545.00 Fourth Year: US$3545.00
_______________
TRAINING HOSPITALS:-
The MHAM College of Medicine has the generous cooperation of many hospitals in Cebu. Among the hospitals utilized for training in the teaching program of the school are: 1. Sacred Heart Hospital 2. Vicente Sotto Memorial Medical Center 3. Cebu City Medical Center 4. Chong Hua Hospital 5. Argao Community Hospital 6. Cebu Skin Clinic
_______________
Library:-
The MHAM College of Medicine Library is situated onthe 4Th floor of Matias H. Aznar Memorial Building occupying the whole right wing covering anarea of approximately 680 sq.m. It is properly lighted

, ventilated and adequately furnished

. The library serves primarily the College of Medicine, the staff of Sacred Heart Hospital, the paramedical colleges and research groups within Southwestern University and other groups associated with it. Library hours are as follows: Class days – Monday to Friday 8:00 AM to 8:00 PM Saturday 8:00 AM to 5:00 PM Sunday 8:00 AM to 12:00 Noon
We are Providing Southwestern University Philippines Admission 2021-2022 From Rajkot, Surat, Ahmedabad, Vadodara, Palanpur, Junagadh, Jamnagar, Dwarka, Morbi, Kutch, Amreli, Surendranagar, Bhavnagar, Gir Somnath, Banaskantha, Bhuj, Ankles war, Gujarat, India 2021-22, if you are looking then get in touch with us !
BHAVYA EDUCATION IS EXCLUSIVE SOLE PROMOTER AND INTERNATIONAL COORDINATOR FOR UNIVERSITY OF SOUTHWESTERN UNIVERSITY IN PHILIPPINES IN INDIA TO STUDY IN SOUTHWESTERN UNIVERSITY CALL:- 09662233661
Would you like our Counselors to call you & assist you for Southwestern University CLICK HERE